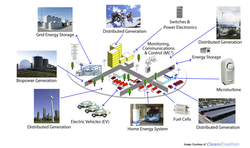 By Priya Aggarwal. While microgrids have always had their share of admirers, certain events in the past year have brought them increased attention, and they now are (or should be) on every energy company's and utility's radar.
Earlier considered mainly because of their ability to island (i.e., operate independently from the grid) and serve remote areas, microgrids are now experiencing mainstream adoption as communities, companies, and governments recognize the key benefits of microgrids in terms of resiliency and energy security.
The following events can be credited with bringing microgrids into the public spotlight.
1. The year 2017 saw many tragic natural disasters that not only resulted in loss of human life, but also disrupted entire communities for days, weeks, and months. Power outages cost nations millions not only due to infrastructure rebuilding requirements but also due to decreased economic activity. Hurricanes Maria, Irma, and Harvey, all brought attention to the potential advantages of having a microgrid at times of large-scale grid failure, and with resulting news
articles and discussions
on the topic, microgrids increased their public profile.
2. Another event that got attention was not a grid failure but rather a local accident that caused one of the busiest airports of the world, Atlanta, to have an eleven hour long
blackout
in December 2017. The resulting chaos from stranded travelers and delayed flights again brought focus on the need for utilities to modernize and implement more resilient options.
In addition, a major energy security concern that is receiving increased attention is the potential for central grid sabotage by non-state actors. The threat of intentional hacking of the grid to cause power failure to harm the nation's economy is a real possibility and has many policy makers thinking about cybersecurity. One solution
highlighted
is dividing the grid into many smaller ones to avoid a large scale central disruption. This can be accomplished by deploying microgrids.
Some energy companies and utilities realized the importance of microgrids five years ago after Hurricane Sandy, but for many others 2017 was a threshold year. A November 2017
report
by GTM Research forecasts $12.5 billion in microgrid investment within the United States over the next six years, and states from
California
to
New York
are implementing policies to accelerate microgrid commercialization and deployment.
Priya Aggarwal is a candidate for Master of Engineering (May 2018) at the University of California, Berkeley. She wrote this article while she was a research intern at the InterAmerican Clean Energy Institute.