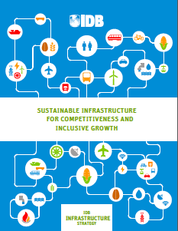 On March 19, 2014, the Institute participated in a
roundtable
hosted by the
Inter-American Development Bank
(IDB) on the topic of "Sustainable Infrastructure." The IDB is the leading source of development financing for Latin America and the Caribbean. Besides loans, the IDB also provides grants and technical assistance and conducts research. In 2013, the IDB released a new infrastructure strategy [
English
|
Español
].
IDB representatives opened the event by highlighting the following key questions: How do we determine whether infrastructure projects are increasing the welfare of society? Are they are providing a decent service? Are they within the boundaries of the environment / biome?
Three Pillars of Sustainability
Three pillars of sustainability were discussed: Physical, Social, and Environmental. On the topic of environmental sustainability, the buzzword was "upstreaming," which means that the IDB aims to engage governments in much earlier stages of infrastructure project planning in order to introduce sustainability concepts at the policy-making and project development stage (upstream), rather than later at the financing stage (downstream). After the opening presentation, panelists from academia and civil society organizations shared their expertise and perspectives on these issues. In particular, speakers emphasized the importance of engaging ministries of finance and planning and highlighting the economic benefits of sustainability (e.g., positive impact on GDB growth, reduction in project delays and costs).
Infrastructure Sustainability Evaluation Tools

Speakers from Harvard University and the US Department of Transportation and highlighted several web based tools for evaluating the sustainability of infrastructure projects.
Envision™ is a sustainable infrastructure rating system that provides a holistic framework for evaluating and rating the community, environmental, and economic benefits of all types and sizes of infrastructure projects. It evaluates, grades, and gives recognition to infrastructure projects that use transformational, collaborative approaches to assess the sustainability indicators over the course of the project's life cycle. Envision™ is the product of a joint collaboration between the Zofnass Program for Sustainable Infrastructure at the Harvard University Graduate School of Design and the Institute for Sustainable Infrastructure.

INVEST (Infrastructure Voluntary Evaluation Sustainability Tool) was developed by the Federal Highway Administration as a practical, web-based, collection of voluntary best practices, called criteria, designed to help transportation agencies integrate sustainability into their programs (policies, processes, procedures and practices) and projects. While the use of INVEST is voluntary, it can be used by transportation agencies and their consultants and partners, to evaluate and aid the integration of sustainability into their programs and projects.