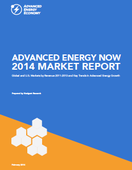 The
Advanced Energy Now 2014 Market Report
is the first annual report of market size, by revenue, of the advanced energy industry, worldwide and in the United States. As defined by Advanced Energy Economy (
AEE
), a national association of business leaders with the goal of making the global energy system more secure, clean, and affordable, advanced energy is a broad range of technologies, products, and services that constitute the best available technologies for meeting energy needs today and tomorrow.
Prepared for AEE by Navigant Research, Advanced Energy Now 2014 reports that, for 2013, advanced energy reached $1.13 trillion in estimated global revenue, a 7% increase year-over-year driven by growth in six of the seven segments. Fluctuation in the worldwide total for advanced energy was largely driven by a peak year for large hydro projects in 2011 followed by a large decline in 2012, then slow growth in 2013.
In the United States, the advanced energy market was an estimated $168.9 billion in 2013, 15% of the global advanced energy market, up from 11% in 2011. Excluding wind, U.S. advanced energy revenue grew 18% from 2011 to 2012 and 14% from 2012 to 2013. Wind energy suffered a severe, $23 billion revenue downward swing between 2012 and 2013, due to policy uncertainty around the federal Production Tax Credit (PTC). The effect of wind's downturn is that U.S. advanced energy revenue declined 2% overall in 2013, following a 26% increase from 2011 to 2012.