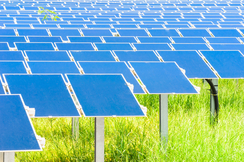 The Brazilian state of Pernambuco held Brazil's first solar-only auction on Dec. 27, 2013. A total of 122.82MW of solar projects were approved at a final clearing price of $98/MWh over a 20 year contract. Competing in the auction were 34 project bidders – six from Brazil along with others based in China, Germany, Italy and Spain.
The final clearing price of $98/MWh was above the range that has been suggested by solar industry representatives ($83 to $87/MWh) yet it was lower than the ceiling price of $109/megawatt-hour set by the state, indicating a win-win for both the solar industry and electricity customers. According to the Pernambuco government, the solar auction attracted BRL597 million ($253 million) in investments. The winning projects have to be installed within 18 months and are expected to generate thousands of construction jobs.
The six winning contracts in Pernambuco state were awarded as follows:
Italian renewable energy developer Enel Green Power: two 5 MW plants in Tacaratu.
The local subsidiary of German renewable energy company Sowitec: 30 MW plant in Santa Maria da Boa Vista.
Brazilian company Kroma Comercializadora de Energia Ltda: 29.2 MW plant in Flores.
Brazilian company Cone Concierge S/A: 22.8 MW plant in Cabo de Santo Agostinho.
Chinese-Spanish company Sun Premier Holding Participações Ltda: 29.7 MW PV plant in Joaquim Nabuco.
Brazil currently has only approximately 20 MW of installed solar and virtually no grid-connected solar.
GTM solar research analyst
Adam James terms the Pernambuco auction a "huge step forward" that places Brazil firmly in the running to become a dominant force in the Latin America PV market alongside Mexico and Chile in coming years. Commenting on the Pernambuco auction, Frost & Sullivan energy and environmental research analyst Vinicius Vargas told
PV Tech
that further state level auctions were likely in Brazil in 2014, rather than national-level auctions.