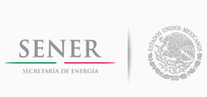 Pedro Joaquín Coldwell, the head of Mexico's energy ministry
Sener
, this week in Cancún laid out five reforms to promote renewable power in Mexico.
1) Create an independent system operator that manages expansion of the transmission network and all interconnection permits.
2) Facilitate the sale of renewable power through creation of a regulated wholesale generation market.
3) Develop mechanisms for distributed generation projects, which is still unknown territory in Mexico.
4) Create demand for renewable energy through stronger implementation of renewable goals and stimulate cheap renewable energy financing.
5) Establish regulation for public consultations on renewable projects to ensure inclusiveness in communities and mitigate negative externalities of projects.
For more see
BN Americas
(subscription required).