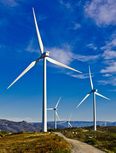 Wind farms won all the contracts in Brazil's November 18, 2013 A-3 auction for new power capacity. Developers of thirty-nine contracted projects will install 868 MW of capacity and sell energy at an average price of 124.43 reais ($54.87) a megawatt-hour, according to
EPE
.
Wind, solar, small hydro, and biomass competed in the auction.
Brazil is on track to auction more than 3,000 megawatts of wind in 2013, the most ever, Elbia Melo, president of the
wind energy
trade group Associacao Brasileira de Energia Eolica (
ABEEólica
), told
Bloomberg
. That will benefit turbine suppliers including
France
's
Alstom SA (ALO)
and Spain's Acciona SA that are investing in factories to meet a local-content requirement.